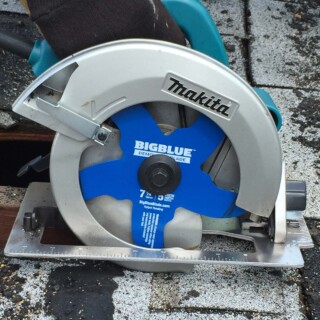 BigBlue™ 5T Demolition Blade
A heavy-duty demo saw blade built to cut harsh materials including shingles with nails and wood, metal wire mesh, lath and plaster, and more!
5x Longer life over other framing/demolition blades when cutting harsh materials.
Clog free, warp free, and crack free.
Everlasting carbide teeth with wide kerf.
7-1/4 in. for circular saws and worm drive saws
$35.00 – $252.00
BigBlue™ 5T easily cuts through the toughest construction materials.
Shingles, Heavy Nails, and Roof Deck
Ice Shield
Cap Sheet
Modified Roofing
Drip Edge
Flashing
Cedar Shakes
Pitch
Galvanized Metal
Cap Sheet
Modified Roofing
TPO and EPDM
Flashing
Lath and Plaster
Wood with Nails
Patio Decking
Metal Wire Mesh
Linoleum
Tar and Gravel
Synthetic Decking
And Much More!
Save time on the toughest jobs and projects.
Demolition of roof decking, shingles, and heavy nails (2+ layers).
Cut shingle roofs into sections for easier removal (2+ layers).
Cut ridge vent and roof vent openings.
Cut openings for air conditioning units and skylights.
Use for roof repairs and maintenance.
Remove lath and plaster walls and ceilings.
Widen synthetic deck joints for expansion and contraction.
Durability
Cut 5,000+ ft. of shingles and heavy nails (2 layers).
Cut 1,000+ ft. of shingles, nails and plywood.
Cut 300+ ft. of tar and gravel.
Extreme Strength for Demolition Cuts

Massive carbide teeth cut through tough materials without chipping or dulling. The extra thick steel body will not warp or crack.

Wide Kerf Circular Saw Blade

At just under 1/4 inch, BigBlue™ 5T is the 7-1/4 inch wide kerf circular saw blade that you've been looking for.

No-Clog Design

Gullets this large never clog... ever. Open space reduces friction and keeps the blade spinning fast. This empowers circular saws and worm drive saws to cut tough construction materials not possible with other blades.
30 Day Money Back Guarantee
We understand skepticism. We have been burned by products that don't live up to their claims too. That is why BigBlue™ 5T comes with a 30-Day Money-Back Guarantee.
| | |
| --- | --- |
| Weight | 0.5 lbs |
| Dimensions | 7.5 × 7.5 in |
| Arbor | 13/16 in., 5/8 in. |
| Compatible | Circular Saw, Worm Drive Saw |
| Cutting Depth | 2-1/4 in. |
| Diameter | 7-1/4 in. |
| Kerf | 3/16 in. |
First time user
So far so good. Been using blade to demo existing asphalt based roofing on a school project. Cuts thru many layers. Would recommend to others.
5T demo blade
Seriously good demo blade, cut through multiple layer of shingles, plywood, nails! Also, the thickness of the blade makes an extra wide kerf, so material doesn't bind up when you want it to fall!!
Top Notch Cutting Tool for our need
Worked like a charm to cut up and demolish the roof of an old house that otherwise would have required a lot of physical leveraging to pull apart. We used both the 3-T blade and this the 5-T Demolition Blade. The 5-T is superior. Glad it exists, would definitely recommend.
Worked great !
I'm remodeling my older house and put on a small addition that is tied into the main house. The original owner reroofed the house at one point without removing the first roof, so I have to remove two layers of roof. My utility knife wasn't doing the job to cut away the shingles where the new roof interested the house roof. I got this blade and it made a very clean cut through both layers of roof giving me exactly what I needed.